Campbell Field Bridge – Carrabassett Valley
Carrabassett Valley, Maine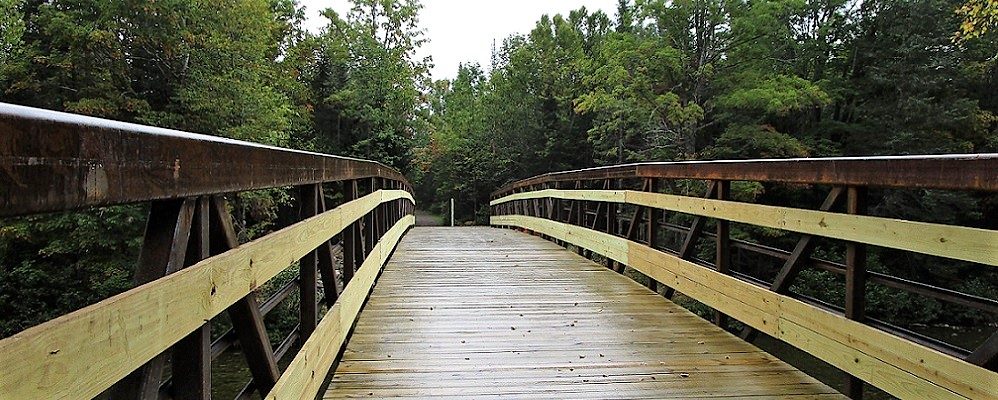 Project Scope
The town of Carrabassett Valley sits at the base of Sugarloaf Mountain and promotes itself as a four-season resort destination. One of the key features of this destination is having quality infrastructure to meet the diverse recreational opportunities. The River bisects the Town and can limit access to thousands of acres of recreational property.
Haley Ward has played a pivotal role in designing two multi-use bridges that span the river.
Haley Ward was retained by the Town to develop a clear span structure that would replace Campbell Field Bridge to connect hiking, biking and skiing trails in 2017.
Haley Ward previously created a design for another multi-purpose bridge that spanned approximately 110 feet of the River. The design allowed the fabricator of the steel framed structure to construct the bulk of the structure in his shop, ship the components to a staging area near the site, complete the final assembly, and swing the entire structure onto the foundations.
Our team of engineers and surveyors used established FEMA Flood Data to determine that elevation and designed the abutments, approaches, and superstructure were well above the established 100-year flood elevation.
The Campbell Field bridge is a thru truss structure that clear spans the Carrabassett River and is constructed from weathering steel and a pressure treated wood deck.
The bridge provides a vital link to the skiing and biking trails within the Town of Carrabassett Valley. The general contractor was Lindsco Equipment, owned by Bill French, of Brewer Maine.
The Campbell Field Bridge project was finished one month ahead of schedule.
Market
Services
Project Data
| | |
| --- | --- |
| Use of Established FEMA Flood Data | Determination that structure was well above 100-year flood elevation. |
| Thru Truss Structure | Materials used were weathered steel and pressure treated wood deck. |
| Timing | Work was completed one month ahead of schedule. |