Haley Ward, Inc. Donates to Hope House and United Way of Eastern Maine
July 15, 2021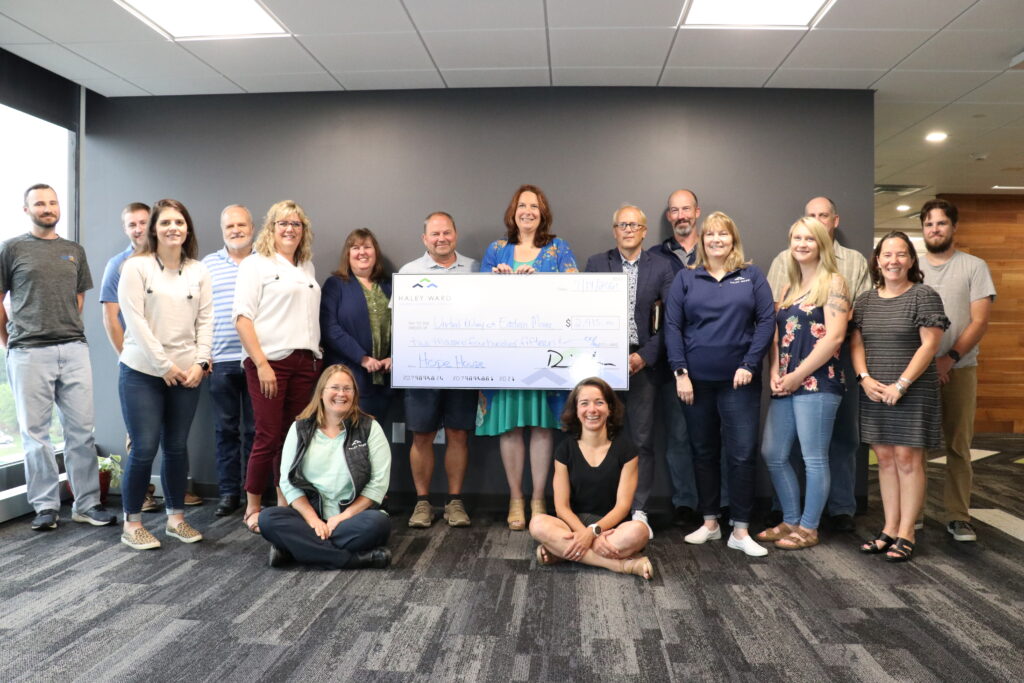 BANGOR, MAINE – Haley Ward, Inc., formerly CES, Inc., is pleased to announce donations totaling $2,705 to the United Way of Eastern Maine to go to the Hope House Health and Living Center residents' basic needs.
During the United Way's Week of Action in June 2021, Haley Ward challenged its employees to raise money for the Penobscot Community Health Care's Hope House to purchase basic needs items (hygiene products, baby supplies, new socks & underwear, etc.) for its residents. Hope House provides emergency shelter, integrated health care, and transitional housing for people experiencing homelessness.
"The response from our employees was overwhelming and is an example of our generosity having a positive impact on our community," said Haley Ward President & CEO Denis St. Peter, PE. "As we have just surpassed a year of being in downtown Bangor, we have all observed firsthand the issues related to substance use disorders and severe, untreated mental illnesses. The compassion our colleagues have for people who are experiencing homelessness and battle mental health and substance use issues is incredible. We are pleased to partner with the United Way to help ensure that people receive the appropriate services they need through a trusted partner."
"Haley Ward cares about making a true difference around important issues. It is no surprise that the employees and leadership embraced The Week of Action and got so involved in supporting the Basic Needs Drive. It is wonderful to work with a business that not only cares about supporting immediate needs but that is also focused on long term results and finding solutions that support people in our community. The funds raised will go a long way to purchasing the supplies that people need the most right now," said United Way of Eastern Maine President & CEO Shirar Patterson.
Through a friendly competitive matching program, Haley Ward and its employees raised funds and spent nearly $300 during the United Way's Week of Action. Given the generosity of the employees, the rest was donated directly through the United Way to the Hope House.
"We are so grateful for this support from Haley Ward," said Josh D'Alessio, Director of the Hope House. "It's hard to overestimate the importance of meeting basic needs—the things most of us take for granted."
"Throughout the year, Haley Ward employees help support local nonprofits as a part of our United Way employee campaign," said Haley Ward's United Way Employee Campaign Manager and Project Professional Jackie Keene. "I'm so proud of our increased generosity for this important issue facing our community. This speaks to why Haley Ward is a Gold level sponsor of the United Way of Eastern Maine."
Haley Ward is supportive of the City of Bangor's approach to assisting people and providing services through local points of service versus loosely organized community groups. The City of Bangor's Assistant Public Health Director provided a roadmap for this approach, which Haley Ward supports in order to minimize the situation in our region. About Haley Ward, Inc.: Haley Ward is an employee-owned professional engineering, environmental and surveying consulting firm with approximately 120 employees in Maine, Massachusetts and Florida. Learn more at www.haleyward.com.