Haley Ward, Inc. Announces Leadership Updates
October 24, 2023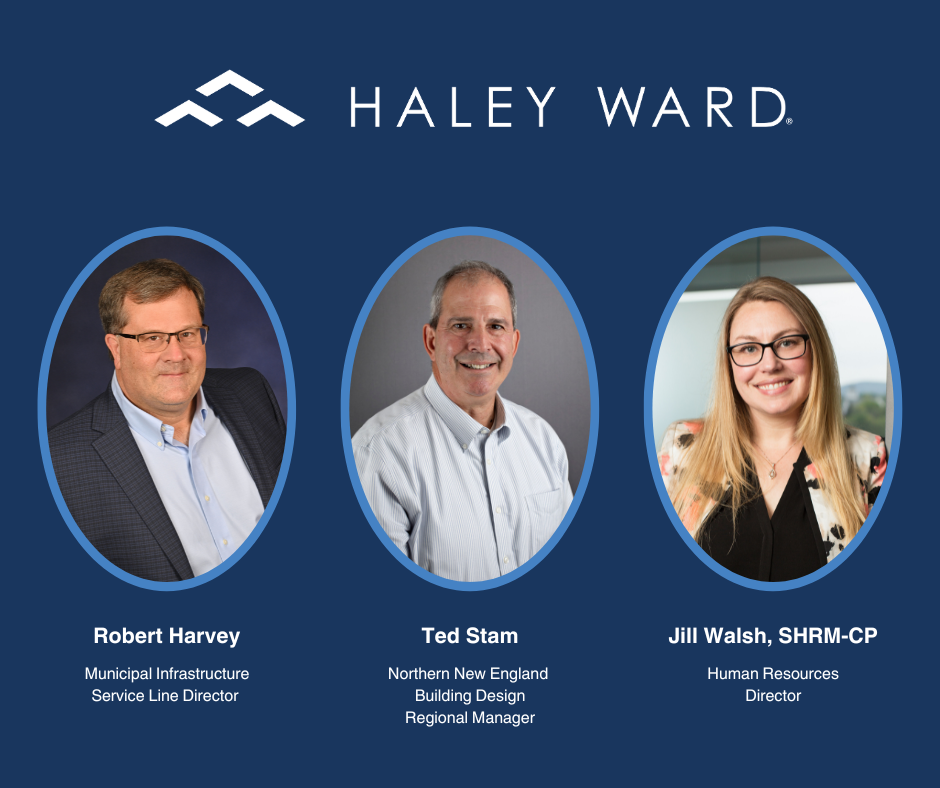 BANGOR, MAINE- Haley Ward, Inc. is pleased to announce leadership updates for three employees within the organization.
Robert Harvey has recently joined Haley Ward and was promoted to the Municipal Infrastructure Service Line Director. Robert has a Bachelor of Science in Mechanical Engineering Technology from The University of Maine, and a Master of Science in Business from Husson University. Throughout Rob's career he has served several roles in capital planning and implementation and maintenance in a number of paper mills throughout the United States and Canada.  His experience in infrastructure planning and improvements, and his skill set as a leader will help Haley Ward continue to grow and improve. Robert replaces Scott Miller who has been serving as Municipal Infrastructure Service Line Director since last July. Scott will remain with Haley Ward in the role of Vice President and Senior Project Engineer.
Ted Stam was recently promoted to Northern New England Building Design Regional Manager. Ted came to Haley Ward in 2023 with the acquisition of Portland based Final Draft CAD, LLC and had been serving in the role of Assistant Director of BIM Services. He holds a Bachelor of Science in Marine Engineering and Nautical Science from the U.S. Merchant Marine Academy, and a Master of Science in Naval Architecture and Marine Engineering from Massachusetts Institute of Technology.  Ted has a varied and diverse background that includes working directly with engineers and architects to fulfill maintenance, capital projects, and operations for several building intense facilities. Ted will be responsible for Building Design Service Line staff in Northern New England. 
Jill Walsh, SHRM-CP was recently promoted to Human Resources Director. Jill has been with Haley Ward since 2020. She has earned an Associate of Applied Science in Business from Eastern Maine Community College, along with a Bachelor of Science in Business with a minor in Human Resources Management, and a Master of Business Administration from the University of Maine. Jill replaces Kay Allcroft who will be retiring at the beginning of next year after more than 40 years with Haley Ward. Kay will serve as Senior HR Adviser and Vice President until that time.
"We want to extend our heartfelt gratitude to Kay Allcroft as she embarks on a well-deserved retirement after four decades of devoted service," said Haley Ward President and CEO, Denis St. Peter, PE. "Kay's commitment to our organization's growth and the well-being of our employees has been nothing short of remarkable. Her tireless efforts have been pivotal to our success, and her legacy will forever inspire us. We thank her for her invaluable contributions and wish her all the happiness and relaxation she so richly deserves in this new chapter of her life."
Chief Operating Officer Travis Noyes said, "We are excited to welcome and grow leaders who embody the spirit of our employee-ownership, and who bring innovative viewpoints to guide us on an inspiring journey ahead. As we advance our leadership team, we extend an invitation to new talent to play a pivotal role in shaping the trajectory of our company's growth". 
About Haley Ward, Inc. Haley Ward is an employee-owned professional engineering, environmental, and surveying consulting firm with approximately 220 employees in Maine, New Hampshire, Massachusetts, Connecticut, and Florida. Learn more at haleyward.com
---