FOR THE EIGHTH YEAR IN A ROW HALEY WARD IS ONE OF MAINE'S BEST PLACES TO WORK!
August 19, 2022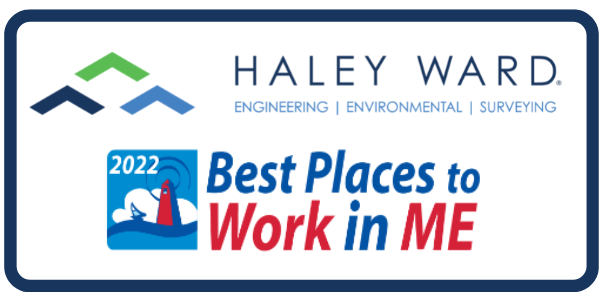 BANGOR, MAINE- Haley Ward, Inc. is pleased to announce that it was recently selected as one of Maine's Best Places to Work in 2022.
"We are honored to have been chosen as one of Maine's Best Places to Work each of the eight years we have applied. We recognize that happy employees provide top of the line service to our clients and communities, so the leadership team at Haley Ward works hard to create an atmosphere that fosters employee engagement, and empowerment. This continued recognition confirms that we are meeting that goal year after year", said President and CEO, Denis St. Peter, PE.
Maine's Best Places to Work is a collaboration between the Society for Human Resource Management- Maine State Council, and the Best Companies Group. Their goal is to encourage excellence in employers, and to recognize those that have established and consistently fostered outstanding workplace environments. Selection is based on data collected through a company assessment, and an in-depth employer questionnaire about company policies, practices, and demographics. Employees are also surveyed on eight core focus areas, including leadership and planning, corporate culture and communications, role satisfaction, work environment, relationships with supervisors, training and development, pay and benefits, and overall engagement.
Human Resources Director, Kay Allcroft, SHRM-CP said "Being named one of Maine's Best Places to Work eight years in a row really helps us stand out among the competition and continue to recruit the best of the best. It also allows us valuable insight into our employees so that we can continue to create a workplace atmosphere that encourages employee engagement and professional development".
This is the second employer recognition Haley Ward has received this year. Last month they were also named one of Zweig Group's Best Firms To Work For in 2022, which honors A/E/C firms across the country.

About Haley Ward, Inc.: Haley Ward is an employee-owned professional engineering, environmental, and surveying consulting firm with approximately 140 employees in Maine, Massachusetts, and Florida. Learn more at haleyward.com
---