Environmental Education Week: Interview with Kyle Sullivan
April 23, 2021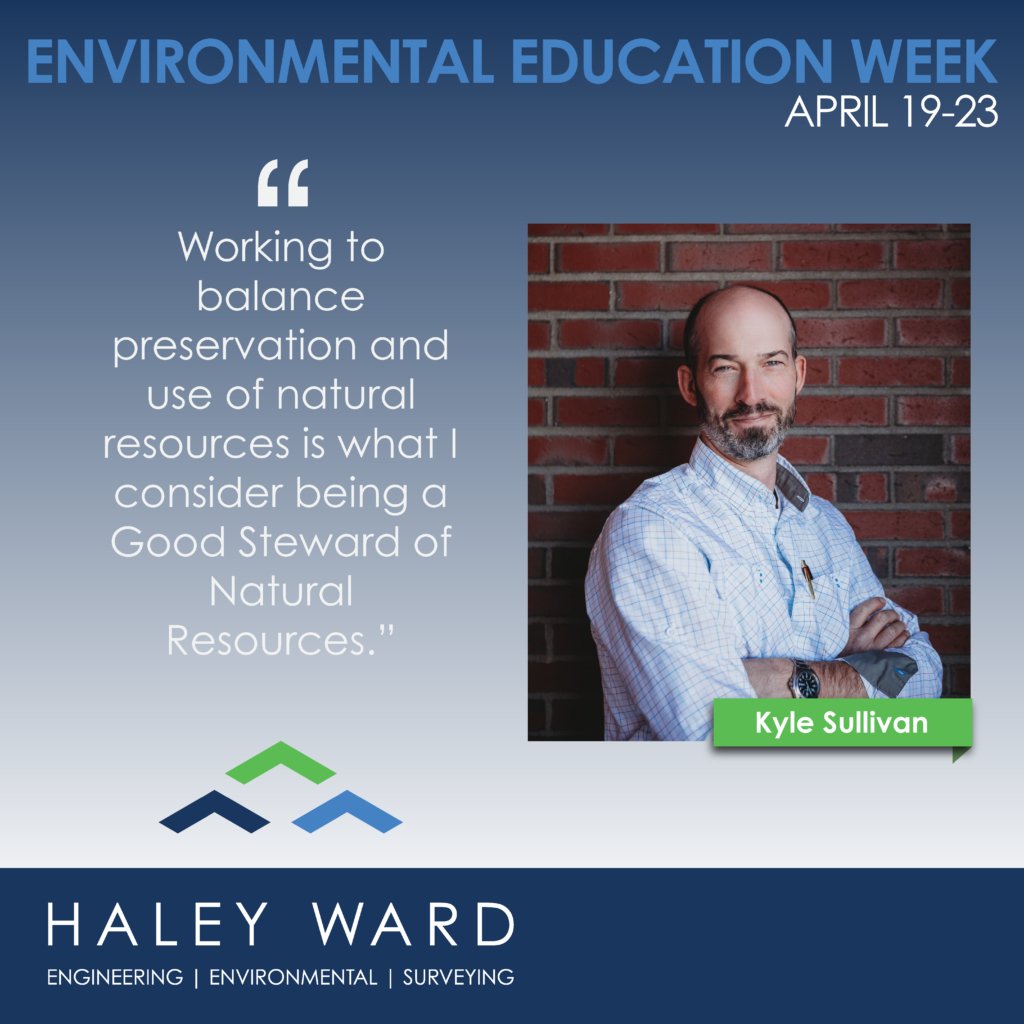 National Environmental Education Week (EE Week) is the nation's largest celebration of environmental education! Throughout the week, we will be featuring a different environmental professional each day to gain some insight on why EE Week is important to them.
Today we are featuring Project Manager and Senior Project Scientist Kyle Sullivan.
Why do you feel that it is important for young people to be educated in the environmental sciences? Why do you feel that it is important to start introducing Environmental STEM activities in the classroom at a young age?
Environmental Science often means different things to different people. I view environmental science as different than environmentalism. Environmental science is no different than any other type of science. Biology, chemistry or physics all still apply and are the tools we use for evaluating the impact that our society has on our environment and the methods we use to manage our natural resources. An education in the field of environmental science teaches people to apply critical thinking and Science, Technology, Engineering, and Math (STEM) principles to environmental issues. My degree is Bachelor of Science in Natural Resources. The core curriculum for this degree was heavy on STEM course work. If young people think they may want to work in environmentally related fields the earlier that they develop the skills of viewing our natural environment through the lens of "science" the better prepared they will be in future professional endeavors.
What does being a "Good Citizen to the environment" mean to you?
Rather than a "Good Citizen of the Environment" I prefer to think in terms of being a "Good Steward of Natural Resources". Although in most cases our natural resources are resilient and renewable, at any given time there are finite number of natural resources available for use and consumption. Working to balance preservation and use of natural resources is what I consider being a "Good Steward of Natural Resources".
If a young person wanted to do something at home to spread environmental awareness, what would you suggest?
I would suggest that instead of focusing on a broad topic like "recycling" or "global warming" the best thing young people can do is to spend time figuring out which environmental resources interest them and find an avenue to engage with groups that address issues related to those resources. Our environment has so many facets that identifying the parts that interest a young person is a critical first step. My advice would be to find an area of interest (air, water, soil wildlife) and focus on that area. There are always opportunities to learn more about a topic through land trusts, school clubs, or national or local organizations that are looking for volunteers. Participation in groups or organizations that have common interests is a great way to learn more about particular environmental concerns and address local environmental issues at the same time.
What made you decide to pursue a career in the environmental sciences?
I've always enjoyed spending time outdoors and it seemed like a natural progression to try to incorporate my enjoyment of the outdoors into my professional career. I initially pursued a degree in the life sciences (biology) and accordingly I spent my first two years in the biology program. While I enjoyed the classes, it was not the fit I had hoped for. During the summer before my 5th semester I did a "job shadow" with the manager of an outdoor education center operated by the State of Connecticut, it was a an actual "watershed day". That visit changed the path of my education. I transferred to UConn's College of Agriculture and Natural Resources prior to the start of the next semester.
What is one little change that someone can do to help the environment that ends up making a big difference?
The biggest thing a person can do is to get educated in the areas that interest them. Too often we make decisions on things we have "heard" and not things we have researched. People that are educated are prepared to influence those around them in a positive manner.
Think locally: If you were a teacher, where would you take your students to learn about the environment and why?
Anywhere outdoors is a good start. The ecological connections that exist in every outdoor environment provide an excellent starting point for gaining understanding of ecological connections. Some of my favorite educational experiences were as simple as exploring river and stream ecosystems just flipping rocks to see what we might find. I believe that these sorts of experiences give young people a chance to engage and interact with their environment.
What has been your favorite environmental project that you have been on for Haley Ward?
I cannot point to one particular project that has been my favorite, however I can speak to the favorite part of my job. The primary goal of my position as a Project Scientist is to help Haley Ward clients understand and comply with environmental regulations. My experience has been that our clients want to do the "right thing" but do not always know what that is. From an environmental perspective, educating our clients on environmental issues and providing creative solutions is where I have a positive impact on the environment.