Environmental Education Week, Earth Day Edition: Interview with Nicole Ireland
April 22, 2021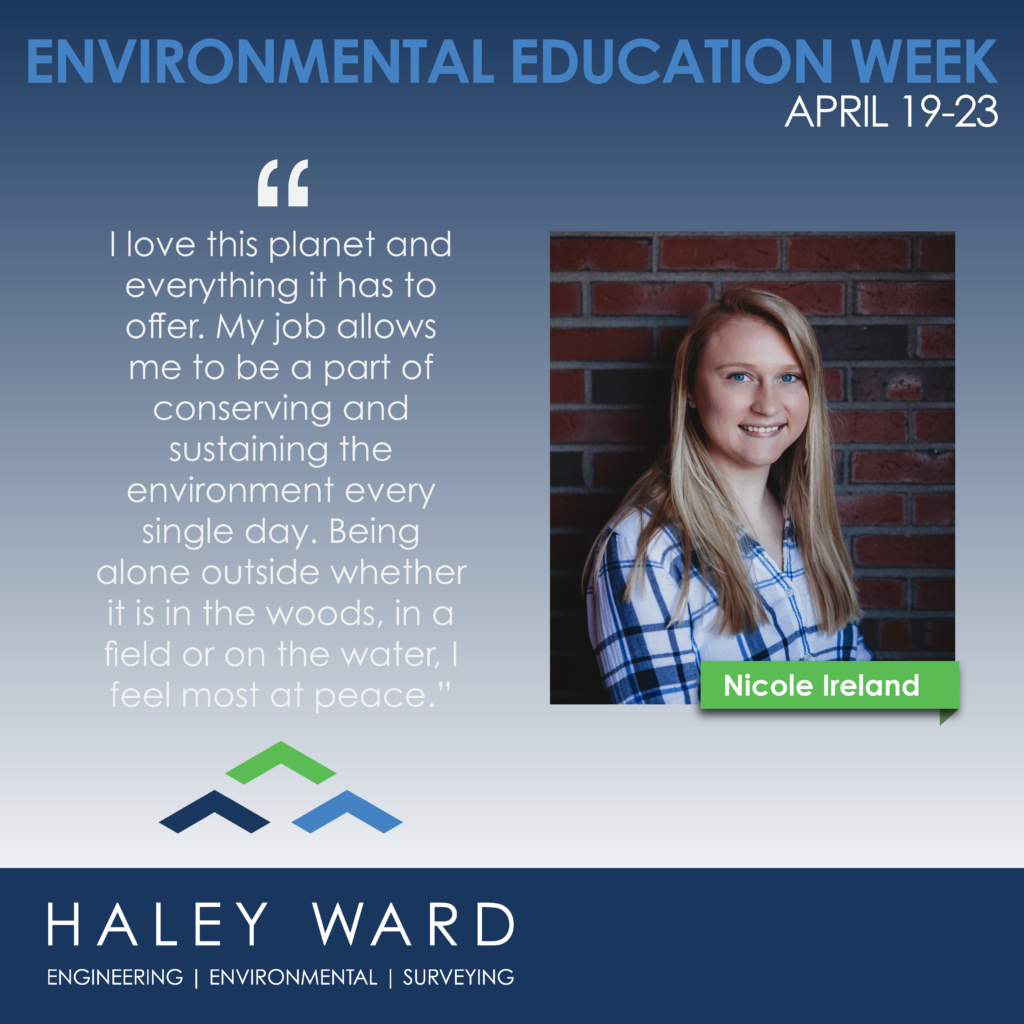 National Environmental Education Week (EE Week) is the nation's largest celebration of environmental education! Throughout the week, we will be featuring a different environmental professional each day to gain some insight on why EE Week is important to them.
Today we are featuring Environmental Scientist Nicole Ireland.
Why do you feel that it is important for young people to be educated in the environmental sciences?
I feel like the younger generations can easily take the world for granted. As you get older you experience the reality that the world is not perfect and in order to keep living in the world we currently live in, we have to take care of it.
What does being a "Good Citizen to the environment" mean to you?
To me this means doing your part when it comes to conservation and sustainability. It can be as simple as choosing not to litter, to as large as joining committees, educating others or reducing your own carbon footprint.
If a young person wanted to do something at home to spread environmental awareness, what would you suggest?
I suggest getting educated online on all the different ways you can stop the spread of pollution and all the small changes you can make in your daily routine to help the environment.
Why do you feel that it is important to start introducing Environmental STEM activities in the classroom at a young age?
In my opinion the younger the better. As a child it is easy to overlook the realities of life and jump into habits that last a lifetime. I have been involved with teaching stormwater to young children during the Maine Science Festival. We use a real life watershed model to teach them how their litter and pollution can enter storm drains and waterways using hands on training. You can see how their faces change as you explain how bad daily habits can really impact the environment.
What made you decide to pursue a career in the environmental sciences?
Honestly, I hardly knew anything about this career path. I switched majors from engineering to Ecology and Environmental Science because of my love for the outdoors. I am a hunter, fisher and hiker and I feel most relaxed when I am spending time outdoors. I want to take part in making sure we never lose the beauty the world has to offer.
What is one little change that someone can do to help the environment that ends up making a big difference?
Something as simple as picking up after your pets outside or not using too much salt on your driveway during the winter can really improve the quality of streams and rivers. We tend to forget about topography of the land and how after rain events occur, that water takes whatever is in its path with it and will usually make its way to a stormwater drain and the nearest waterway.
Think locally: If you were a teacher, where would you take your students to learn about the environment and why?
I would choose Baxter State Park. I have been going to Baxter every year since I was born. Cell phones are not an option as service is not available. It is a beautiful place to sit back and look at Maine's natural beauty that is untouched by human activity.
What has been your favorite environmental project that you have been on for Haley Ward?
I was able to help with the Katahdin Woods and Waters National Monuments hiking trails project in northern Maine when I was first hired at Haley Ward. I was involved in the delineation and vernal pool assessment portion of the project. Instead of a one day project, this one lasted for weeks and as a team, my co-workers and I were able to see the progress of the project each time we returned. We were able to collaborate with other companies and individuals outside of our own company. After working on the hiking trails with my coworkers I knew that this was going to be the right career path for me.