Haley Ward 2020 June Employee Updates
October 16, 2020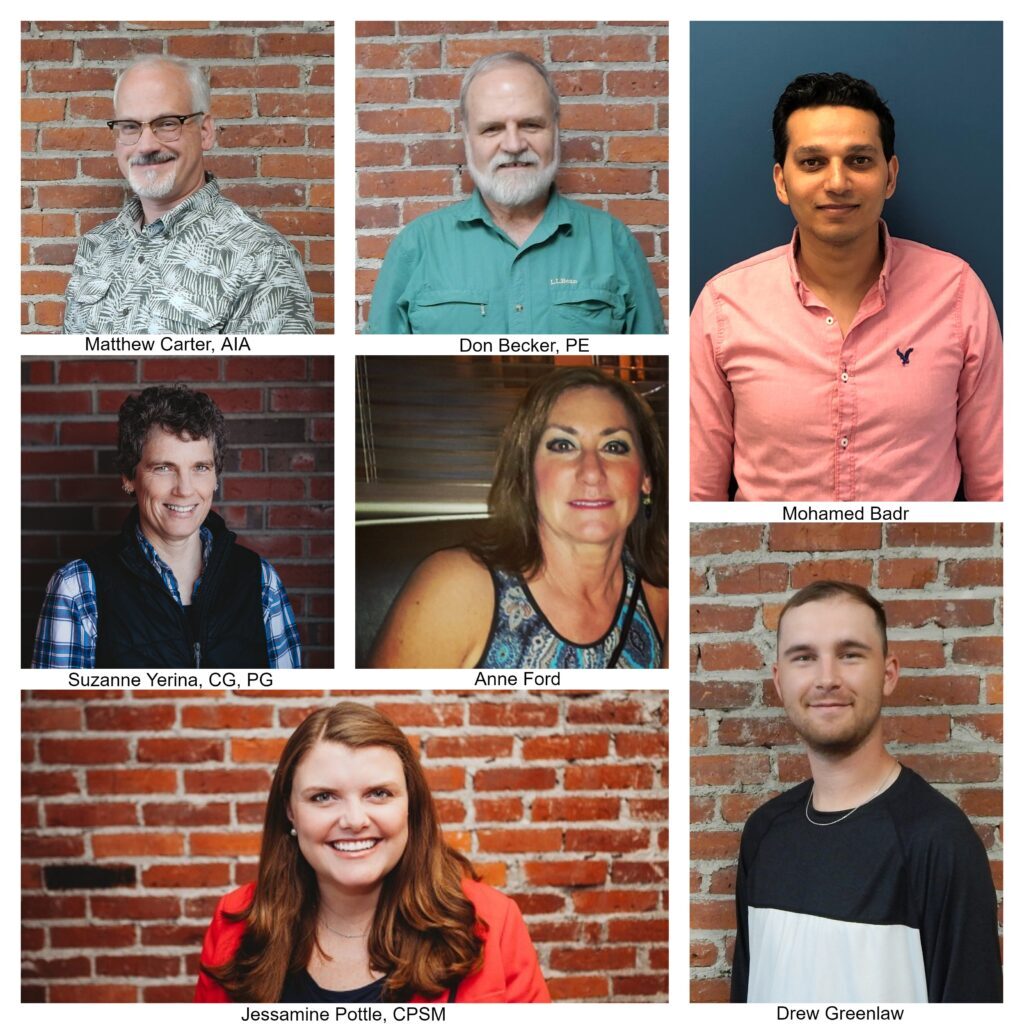 Bangor – Haley Ward, a Maine-headquartered firm of engineers, environmental scientists, and land surveyors, is pleased to announce employee updates in its Maine, Massachusetts and Florida offices.
New Hires – Maine
Matthew Carter, AIA joins Haley Ward as a Project Manager/Senior Architect with over 28 years of experience as a Maine-based architect and project manager on residential, commercial, library, educational, municipal, institutional, and civic work, with an emphasis on historic preservation, code compliance, master planning, existing facilities renovation, and public safety projects. A natural addition to Haley Ward's growing building services unit, Carter believes in the importance of a client-centered, team-driven design process that considers all aspects of design, understands the needs of the many stakeholders involved in a project, and is concerned with the effective use of the client's resources to produce affordable designs. His range of experience extends beyond the Bangor region including locales such as Alabama, Pennsylvania, Maryland, Ohio and Delaware. Born and raised in Bangor, Carter attended Carnegie Mellon University in Pittsburgh, Pennsylvania, where he received his Bachelor of Architecture degree. He worked for and was a partner at several architectural firms before founding his own firm in 2014. Carter also serves as the current chair of the Bangor Historic Preservation Commission.
Don Becker, PE rejoined Haley Ward this spring as Project Engineer after five years working as a Project Manager in the construction industry and at another consulting firm. Becker spent 25 years at Haley Ward supporting the site development and general civil engineering practice and was instrumental in training several of the engineering staff throughout the '90s and 2000s. Becker graduated from the University of Wyoming and resides in the Greater Bangor region.
After three summers of working as a surveying intern in Haley Ward's Machias office, Drew Greenlaw joins Haley Ward as a full-time Survey Technician. He is a 2020 University of Maine Survey Engineering graduate and plans to seek his Master's degree in Business Administration. Greenlaw will be working in the field and at times, in the office learning the ropes to ultimately obtain licensure.
Machias and Fort Myers, Florida
Mohamed Badr has joined our surveying division as a Senior Technician. He has experience with both field and survey office tasks, including the use of standard equipment (level, total station, and GPS) and software (Microsoft Office, AutoCAD, and Civil3D). He started his work at Haley Ward's Machias office to gather the information and knowledge necessary to continue with the standards of Haley Ward when he transitions to Haley Ward's Fort Myers, Florida office later this year. With assistance and guidance from other professionals within Haley Ward, Badr plans to pursue licensure, potentially in both Maine and Florida. He received his surveying training in Cairo, graduating with a technical degree in 2010, and has worked and been licensed since then as a professional surveyor in both Egypt and Saudi Arabia.
Massachusetts – New Hire
Haley Ward recently welcomed Anne Ford to the team as Senior Administrative/Project Assistant. Ford helps manage the front office, uploads and manages the bid and contractor requests, provides documentation support to the engineering staff, and is a welcoming greeter to clients when they visit or call the office. She comes to the company most recently from her own property management company in the Maynard area and prior to that as an Administrative Assistant to a partner in a law firm.
Certifications and Appointments – Maine
Suzanne Yerina, CG, PG of Haley Ward's Lewiston office was recently appointed to the Maine Board of Licensure of Water System Operators. This appointment was approved by Governor Janet Mills. The State of Maine Board of Licensure for Water System Operators oversee the rules related to the licensure of water system operators, which include the classification of water systems determined by treatment and distribution qualities, establishes licensing requirements and procedures for initial licenses and biennial renewals. The Rules also establish the fees and operator discipline process.
Based from Haley Ward's Bangor office, Marketing Director Jessamine Pottle is now a Certified Professional Service Marketer (CPSM) after taking an exam through the Society of Marketing Professional Services (SMPS), the organization dedicated to marketing and business development in the A/E/C industry.
About Haley Ward
Haley Ward provides engineering and environmental consulting and land surveying services to clients across the country. In business since 1978, Haley Ward employs over 100 professionals across offices located in Maine, Maynard, Massachusetts, and in Fort Myers, Florida.