Summer Interns at Haley Ward, Inc.
August 31, 2021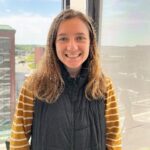 BANGOR, MAINE – Haley Ward, Inc., formerly CES, Inc. is pleased to announce that Elisabeth Parker, Lucas Harman, Justin Hines, and Daniel Diaz completed 2021 summer internships. Elisabeth and Lucas were in the Bangor, Maine office while Justin and Daniel were in the Maynard, Massachusetts office.
"We were excited to welcome interns back to Haley Ward this summer. Their experiences with our technical staff will help them decide if a career in engineering consulting is the right one for them. It also helps Haley Ward identify students who are a good fit for our company's growth," said Haley Ward President & CEO Denis St. Peter, PE.
BANGOR, ME
Elisabeth Parker is a Civil Engineering student at the University of Maine and will be entering her Junior year this Fall. She worked in Haley Ward's Bangor office, and was exposed to multi facets of the company through job shadowing, and performing design and permitting tasks.
Lucas Harman is a Five-Year Marine Systems Engineering major at Maine Maritime Academy and will be graduating in December of this year. This summer he completed his final training cruise to receive his Coast Guard license and completed his shore side engineering requirements with his internship at Haley Ward at the beginning of the summer. His responsibilities at Haley Ward included Mechanical, Electrical and Plumbing (MEP) drafting in CAD, interior and exterior lighting level calculations, as well as HVAC and plumbing load calculations.
MAYNARD, MA
Justin Hines is entering his Senior year at Worcester Polytechnic Institute (WPI), majoring in Civil Engineering. He interned with the Maynard office during the summer of 2019 and we were delighted to welcome him back again this summer. He worked on projects related to MS4 sampling, sewer system rehabilitation, GPS survey, water and sewer main design, and pump station controls. He was also exposed to structural design work during his time at Haley Ward.
Daniel Diaz is entering his Senior year at the University of Massachusetts Lowell and completed his first summer internship with Haley Ward. He is majoring in Civil Engineering with a minor in Business Administration. Some of Daniel's projects this summer included GPS survey and site plan drafting with AutoCAD, re-routing a stormwater drainage system in a neighboring community, and design work for general pump station electrical upgrades.
About Haley Ward, Inc.: Haley Ward is an employee-owned professional engineering, environmental and surveying consulting firm with approximately 120 employees in Maine, Massachusetts and Florida. Learn more at www.haleyward.com.