Emera Maine Transmission Structures Preservation
Madawaska, Maine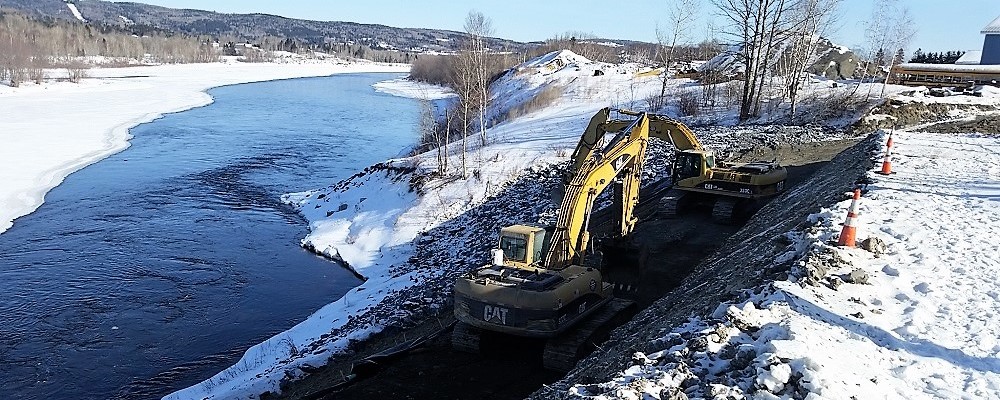 Project Scope
Severe erosion of a section of the St. John River Bank in Madawaska, Maine, over the last several years had compromised the transmission line river crossing structures of Emera Maine. This river crossing is one of three critical connections between Maine and New Brunswick for the Emera Maine System.
Representatives from Haley Ward conducted multiple site visits and performed a detailed records review to collect evidence of why the area of the lines appeared to be eroding at a faster rate than the banks immediately upstream or downstream of the location. Historical photos were reviewed, and it was discovered that over time, the river channel had shifted slightly.
Possible contributing factors to the erosion of the bank over a period of many years and the shift in river channel may have been associated with depositional changes to the series of islands just north of the subject bank, potential ice channel scour during periods of ice jams or ice breakup, a fairly recent man-made jetty just down-gradient of the site creating an eddy on the banks of the site, and a stormwater ravine just above the jetty.
The pole structures were relocated in the summer of 2017, however, the river bank required stabilization. Emera Maine hired Haley Ward to perform an evaluation of the conditions that existed on the site, as well as provide conceptual options to remediate the imminent failure of the steep bank slope (approximately 40 feet in height).
Once a preferred option was chosen, Haley Ward continued with the final design and subsequently provided construction observation for the stabilization project. The project was permitted through the Maine Department of Environmental Protection and the Army Corps of Engineers. Emera Maine, along with Haley Ward, and the Contractor (Ed Pelletier and Sons) worked collaboratively to complete this successful project.
The Project Consisted Of:
Rough grading of the top of the bank due to safety concerns on the back-slope of the temporary access road;
Silt fence placement;
Reducing the slope of the bank to a maximum of 2:1;
Installation of French drain to relieve bank hydraulic pressures;
Placement of geosynthetics, crushed rock, gravel, and rip-rap to stabilize the river bank;
Construction of stormwater catch basins and piping; and
Site restoration.
Market
Services
Project Data
| | |
| --- | --- |
| Detailed Records Review | Through the review of historical photos it was discovered that over time, the river channel had shifted slightly. |
| Installed French Drain | Relieved bank hydraulic pressures. |