Alexandria Bay LPOE
Alexandria Bay, New York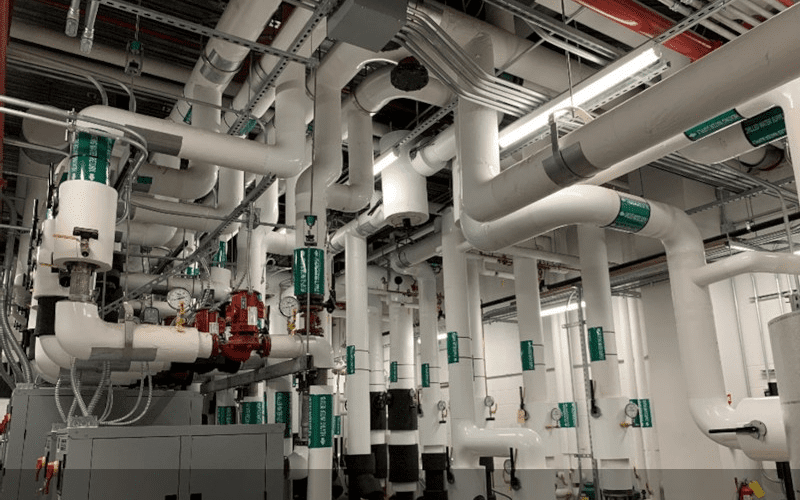 Project Scope
The Land Port of Entry (LPOE) project at Alexandria Bay, New York, is a modernization of an existing 40-year-old complex to upgrade the Customs and Border Protection's (CBP) assets to 21st Century standards. The $215M project was started in the summer of 2017 and is currently in Phase 2 of 2 of construction, which is scheduled to be completed by 2022 (although it is currently ahead of schedule).
According to the General Services Administration (GSA), this is the 6th busiest U.S. LPOE for inbound commercial traffic along the U.S. Canadian border (out of 77 LPOE's along the northern border).
Scope included of work for Final Draft CAD included:
BIM Management of technology and related technical infrastructure
Coordination of BIM, and related trade subcontractor meetings utilizing Autodesk Navisworks Manage
Modeling in Autodesk Revit of the architectural, structural concrete, Civil, and Wastewater Treatment Plant (WWTP) digital assets for the entire project
Oversee the integration into the BIM of the Computerized Maintenance Management System (CMMS) utilizing COBie standards
Assemble and create monthly 4D animations utilizing the BIM to show future construction progress
Create and provide numerous drawings to assist client and field construction
Due to the nature of the prolonged funding and procurement cycle with the U.S. Federal Government, the design for this project was originally completed in the mid-2000's and construction was awarded in 2017. When it was finally awarded, the project (and technology) was out-of-date and some of the models were not able to be utilized in their current state to align with the 2022 deliverables at project completion. This required re-creating much of the existing BIM content from scratch. The process of ultimately re-creating the architectural, structural concrete, civil and WWTP content enabled Final Draft CAD to QA/QC the drawings in a very thorough manner. As a result, we were able to identify document irregularities early in the process with the documents updated before construction began. By 'building buildings in 3D before they're built', Final Draft CAD was able to make it Final, the First Time™, which contributed to our client being 1 year ahead of schedule.
The complexity of the deliverables required substantial effort and coordination of all stakeholders to move this complex project forward. Project scheduling consultants provided real-time data to enable linking of their schedule to our BIM to create 4D animations, which were delivered monthly throughout the project. The design teams assisted with design and coordination issues to allow the subcontracting trades to continue their modeling progress, resulting in our successful coordination of all site and related buildings.
As the project nears completion, the Constructions Operations and Building information exchange (COBie) information is being populated to assist the government in maintaining their assets long into the future.
Market
Services
Project Data
| | |
| --- | --- |
| BIM Management & Coordination, Modeling, CMMS/COBie, 4D Animation, Drafting | |