One Merchants Plaza Wins Notable Project Award
May 24, 2021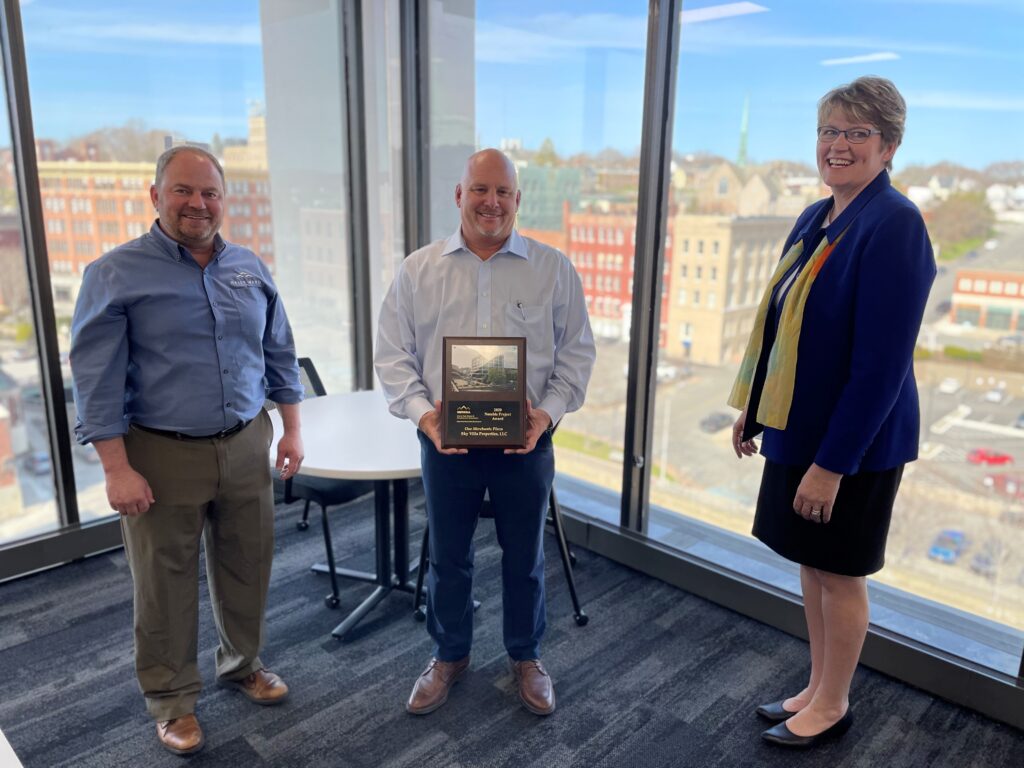 BANGOR, May 20th, 2021: One Merchants Plaza, located in the heart of downtown Bangor, received one of six notable project awards at MEREDA's 2021 Annual Spring Conference.
One Merchants Plaza was developed by Hampden-based developer David St. Germain of Sky Villa Properties.
MEREDA, the Maine Real Estate and Development Association, holds its awards every spring. This year's event was held virtually so that viewers could tune in from wherever they happen to be. Selection criteria for the awards include environmental sustainability, the project's significance to the area, economic and social impacts, difficulty of development, energy efficiency, job creation, and uniqueness.
"The success of One Merchants Plaza could not have happened without the right people in place for things to work smoothly," said St. Germain. "From the City of Bangor to our team of Haley Ward, Inc. (formerly CES), Bowman Constructors, Bowerbird Design Collaborative working together throughout the construction and permitting process allowed for a seamless project and a fully occupied building in downtown Bangor. "
The building was initially erected in 1972 and was the first all-concrete building of its kind in the area. Bangor Daily News was one of the more recently notable tenants when they moved into the building's first floor in 2014. Other tenants include UBS and now Wabanaki Public Health.
After meeting with St. Germain, Haley Ward, Inc. President & CEO Denis St. Peter, PE knew the building would be the right fit for his company.
"Initially we were not interested in the location because of the deferred maintenance at One Merchants Plaza," said St. Peter. "After meeting with David and learning his vision to invest in the property, we quickly realized One Merchants Plaza would fit the space needs of our company."
Bowman Constructors was awarded the contract to renovate this 62,000 sf – seven-story office space. Renovations included upgrades to the HVAC system and lighting. New gas-fired rooftop units were installed for heating and cooling of the building. New energy-saving lights were also installed, as were new window films and shades to insulate the interior of the building from changes of temperature.
"There were some significant logistical challenges in working around occupied spaces as well as getting materials where they needed to go," said Kevin Bowman, President of Bowman Constructors. "The bulk of the renovation was happening in the top three floors of the building, so it took some creative thinking to get our supplies seven stories up in a building with small elevators and tight stairwells."
That type of creative thinking, along with great collaboration, resulted in an award-winning office space that will occupy the cityscape of Downtown Bangor for years to come.
Project Team: Owners: Sky Villa LLC, Engineering : Haley Ward, Inc, Construction: Bowman Constructors, Interior Design: Bowerbird Design Collective and Interior Furnishings: Creative Office Pavilion.