Haley Ward acquires Ambit Engineering, Inc. in Portsmouth, New Hampshire
November 29, 2022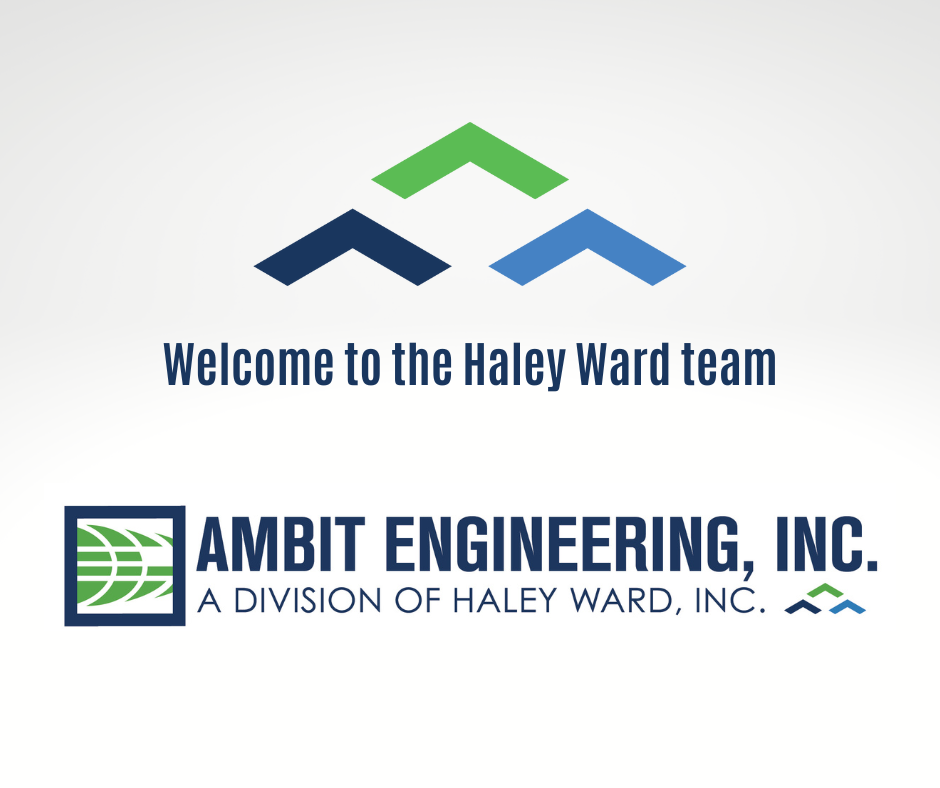 Bangor based Haley Ward, Inc. acquires Ambit Engineering, Inc. in Portsmouth, New Hampshire
Haley Ward continues 2022 growth: now in five states
BANGOR, ME- Haley Ward has acquired Ambit Engineering, Inc., a civil engineering and land surveying company in Portsmouth, NH. This is the third acquisition for the company in three months and expands Haley Ward's footprint to include five states- Maine, Massachusetts, New Hampshire, Connecticut, and Florida.
"We are excited to welcome Ambit Engineering to the Haley Ward team," said Haley Ward President & CEO Denis St. Peter, PE. "Ambit's New Hampshire location means we are closing the gap between our Maine and Massachusetts offices while adding another office that provides exceptional, client-focused services, improves the depth of our team, and compliments the services we provide."
"Ambit Engineering's strength and ability to deliver comes from a team approach applied to each individual project based upon the client's unique needs, requirements, and desire," said Principal and Owner of Ambit Engineering, John Chagnon, PE, LLS. "When learning about Haley Ward and their own approach to providing quality service to their clients, I knew it would be the right fit for our clients and our employees. Our client's will benefit with expanded commercial and municipal engineering services."
Ambit Engineering will be known as Ambit Engineering, a division of Haley Ward during a transition phase. All 10 employees have joined Haley Ward.
Haley Ward COO Travis Noyes, PE, said, "When we met John and his team, we could tell right away that their company was very much inline with Haley Ward's mission and values. We are excited to welcome the Ambit Engineering employees to our team and look forward to supporting their projects and providing them with new professional opportunities that come from working with a larger firm."
About Ambit Engineering Inc.: Ambit Engineering, Inc. is a civil and land surveying firm in Portsmouth, New Hampshire. They specialize in obtaining permits for commercial, homeowner, and municipal clients. They offer services in civil engineering, land surveying, land use consulting, natural resource and regulatory permitting, septic design, and condominium conversions.
About Haley Ward, Inc.: Haley Ward is an employee-owned professional engineering, environmental and surveying consulting firm with more than 190 employees in Maine, New Hampshire, Massachusetts, Connecticut, and Florida. Learn more at www.haleyward.com.