Bangor-based CES, Inc. is Now Haley Ward, an Employee Owned Company
November 20, 2020
Maine Engineering Firm Renames and Rebrands Company after 42 Years.
BANGOR, MAINE – CES, Inc. is announcing that after 42 years, the company is changing its name to Haley Ward, Inc. and is now a 100% employee owned company as an Employee Stock Ownership Plan (ESOP). The changes are being made to better represent its evolution in size and geographic reach; to address its expansion of engineering, environmental and surveying services; and to achieve its future growth goals.
"This is a big moment for our entire team," said Haley Ward President & CEO Denis St. Peter, PE. "Our company has grown significantly in size and services since we first launched in 1978. These changes better represent the company we are today and reflect on our vision for the future."
The new name, Haley Ward, may sound familiar to clients around Maynard, Massachusetts. CES acquired Haley and Ward, a water and wastewater engineering firm founded in 1897, in January of 2020.
While changing to Haley Ward was not the impetus for the acquisition, the company found the name achieved its goal of finding a name that presents itself as modern, while serving a successful homage to the past. The rebrand to Haley Ward also eliminates brand confusion surrounding the multiple companies named "CES" locally and across the nation.
The rebranding process was a company-wide effort.
"We built our company as a team," said St. Peter, "so we sought input from our entire team when rebranding our company. We also wanted a name that reflected the depth of talent on our bench and their talent in finding solutions with skills, teamwork, and technology."
"Transitioning to the ESOP acknowledges that our team members all made significant contributions to the success of our company. We wanted to better share the benefits of ownership and success of the company," added St. Peter.
"We're growing in services, in market, and in geography," said Haley Ward Executive Vice President Travis Noyes, PE. "Under the Haley Ward banner, surveyors, scientists, and environmental engineers can enter these new areas with consistency and without confusion."
Haley Ward worked with Sutherland Weston Marketing Communications, a Maine-based firm on the rebranding efforts.
"We introduced a new logo with our name change," said Marketing Director Jessamine Pottle, CPSM. "Our team sought an aesthetic design that reflects our responsiveness and drive to advance work on behalf of our clients.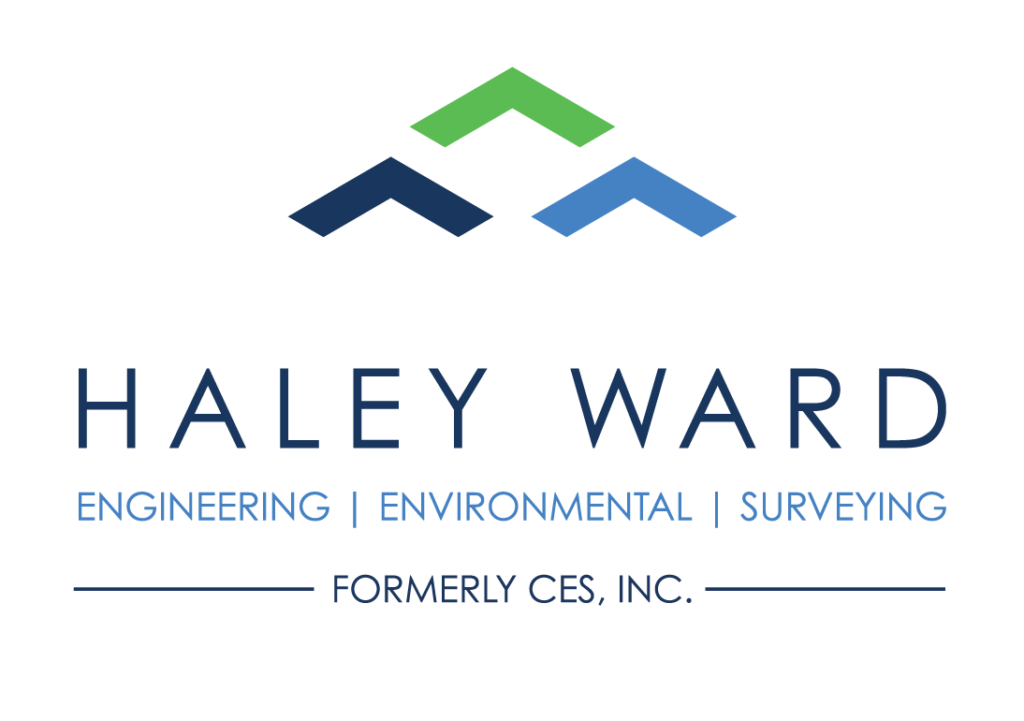 "The peaks in our new logo represent progress in action while forming a single peak that represents teamwork in action," added Pottle. "The three colors represent the primary service areas of our company: engineering, environmental and surveying."
The company has launched a new website at www.haleyward.com but will maintain its former site at www.cesincusa.com during its transition to the name.
To help the company share the news about the new name, One Merchants Plaza co-tenant, Bangor Daily News, has graciously offered to move their sign from the top of the west side of the building to allow room for Haley Ward's. The BDN's sign will be moved to the first-floor level, near the main entrance of the building.
About Haley Ward, Inc.: Haley Ward is an 100% employee owned professional engineering, environmental and surveying consulting firm with over 115 employees in Maine, Massachusetts and Florida. Learn more at www.haleyward.com.